Owner
Bob Demattia
CFO
Paul Rzepka
I came to work for Biker Bob's Harley-Davidson® Motown in 2004. I have worked in a variety of business ventures throughout my career, and none can compare with the great time we have at Biker Bob's. It's my pleasure to serve our customers.
Assistant GM/ Riding Academy Manager
John Hankins
As a 9 year old I rode my first 2 wheel motorcycle, I went on to ride dirt bikes and eventually toured the country.
Service Manager
A.J. Denson
I wrench because I enjoy changing things and making them better or different. Even as a kid at just 4 years old, I appreciated the intricacies of design and function. I got a 1987 YZ 80 dirt bike and would trail ride all day.
Parts Manager
Eddie Doyle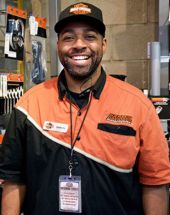 Business Manager
Damon Peterson
I've been riding bikes since I was five years old, and love working at Biker Bob's. In my spare time, I love riding my 2005 Harley-Davidson® Dyna, and spending time with my wife and two kids. I have 14 years of experience with Harley-Davidson®.
Communications Director
Amanda Estrada
I recently developed a passion for Harley-Davison® motorcycles and wanted to get more involved with them and happily found a home here with Biker Bob's. I'm happy to call this dealership my "home" and enjoy working with such a great group of people!
Director of I.T.
Randy Rhodes
As a 20 + year veteran of the Information Technology industry, I've spent the last 15 working for Biker Bobs. Our world class network provides speedy and reliable access to our customers and associates.
Building Maintenance
Fred Maples
Besides the usual high-school gas station mechanic job, I served one enlistment in the Marines as a Combat Artillery Man, ten years at AT&T, and thirty years at Ford in the communications department. I've been at Biker Bob's since 2012.
Harley Sales Expert/Assistant Riding Academy Manager
Ashley Estrada
I am a Riding Academy Coach and Sales Professional here at Biker Bob's. To work for Harley Davidson has been one of my life goals. I'm truly passionate about my work, and take pride in everything I do.
Harley Sales Expert
Eddie Key
I have been riding for over 40 years. My current motorcycle is an Ultra Classic. I'm fortunate to have found a home at Biker Bob's. The professionalism that I witness on a daily basis here is incredible.
Harley Sales Expert
Rick Moynihan
I've been in sales for 30 years, from furniture to food. Now I am living the legend here at Biker Bobs. My goal is help you secure the Harley Davidson of your dreams. Being part of the Biker Bob family lets me help others Live the Legend and Ride Free.
Harley Sales Expert
Mike Thorpe
Although my Harley dream didn't come true until I turned 50,I have always been a fan. After 2 decades in the automotive industry, I realized it was time to further my dream.
Warranty Admin
Dave Morasco
I graduated from MMI, and have been riding motorcycles 20 years. I was an industry technician for 12 years, worked in motorcycle sales for two years, and have been in a service consultant for three years.
Service Writer
Fiddy
Service Writer
Miguel Rodriguez
Shop Foreman & Master Technician
Ken Belcher
Motorcycles and I go way back. I had my first street bike, a Kawasaki KE 175 at 16, but rode, raced, and worked on dirt bikes starting at age 8. My first dealership job was on the import side at 18 years of age, in 1988.
Assistant Shop Foreman & Master Technician
Tom Kramer
I come from a long line of mechanical, repair, and service- oriented family members. My grandparents owned and ran their own successful, appliance repair business in Pasadena, California.
Expert Technician
Shawn Trujillo
My dad had me working with tools at a very early age, so I guess I have always been pretty hands on. I started doing my own upgrades and repairs on all of my own bikes from the beginning.
Service Technician
Gregory Folkema
Service Technician
Ben Gerber
Driver & Lot Technician
Jason Bridges
Jason let us write his bio, because he is too shy to brag about himself. So, please allow us to do so: We could tell when we met Jason, that he was going to be a good fit. He is professional, and friendly, and has integrity.
Driver
Ryan Reitzi-Rye
What brought me to Bike Bob's was my love for motorcycles. I live in the area and stopped by to put in my resume. After meeting everyone and the interviews, I knew this was my dream job!
Motorclothes Professional
Marie Jones
I have always lived my life as a free spirit. I never needed to fit in or act like anyone else. That's one HUGE reason I'm attracted to Harley Davidson, you can live your legend however your dreams desire and no ones dreams are alike!!
Riding Academy Coach
Brian Yinger
Hi. My name is Brian Yinger and I've been riding motorcycles since age 9. I would scour the neighborhood for thrown out lawn mowers, tear them down, and rebuild them into a fantastic mini-bike. If the part didn't fit ... "Hand me the file!"
Riding Academy Coach
Tim Mooney
I've been a lifelong motorcycle enthusiast both in the dirt and on the street. In 2007 I decided to share my passion with other soon to be riders. I have met and taught so many awesome people how to ride over the last 9 years and it's been a blast.
Riding Academy Coach
Keith Weycker
I have been riding for about 35 years and I was professionally trained as a Police Officer with the Taylor Police Department. I enjoy every ride I take on my 2014 Police Electra Glide ! I truly enjoy being an instructor at Biker Bob's Riding Academy.
Riding Academy Coach
Shawn Kritzer
I have been a Police Officer for 21 years. I have been a Police Motor Operator since 2006. I learned to ride at Michigan State University and was taught by John Hankins. I have competed at both state and national levels in the Police Competitions.
Riding Academy Coach
Lee Smith
Riding Academy Coach
Shaun Williams
Riding Academy Coach
Daniel Kerber
Riding Academy Coach
John Colburn
Riding Academy Coach
K.P enna
Receptionist
Nancy Acker
My husband and myself bought our first Harley-Davidson Motorcycle 14 years ago and we love riding! I love to travel and have been to Hawaii six times to see my daughter and two grandchildren.
---
At times we are on the look out for individuals to join us who share our passion and commitment. If this is you and you are interested in working with us, please get in touch